Overview of The Gospel Mission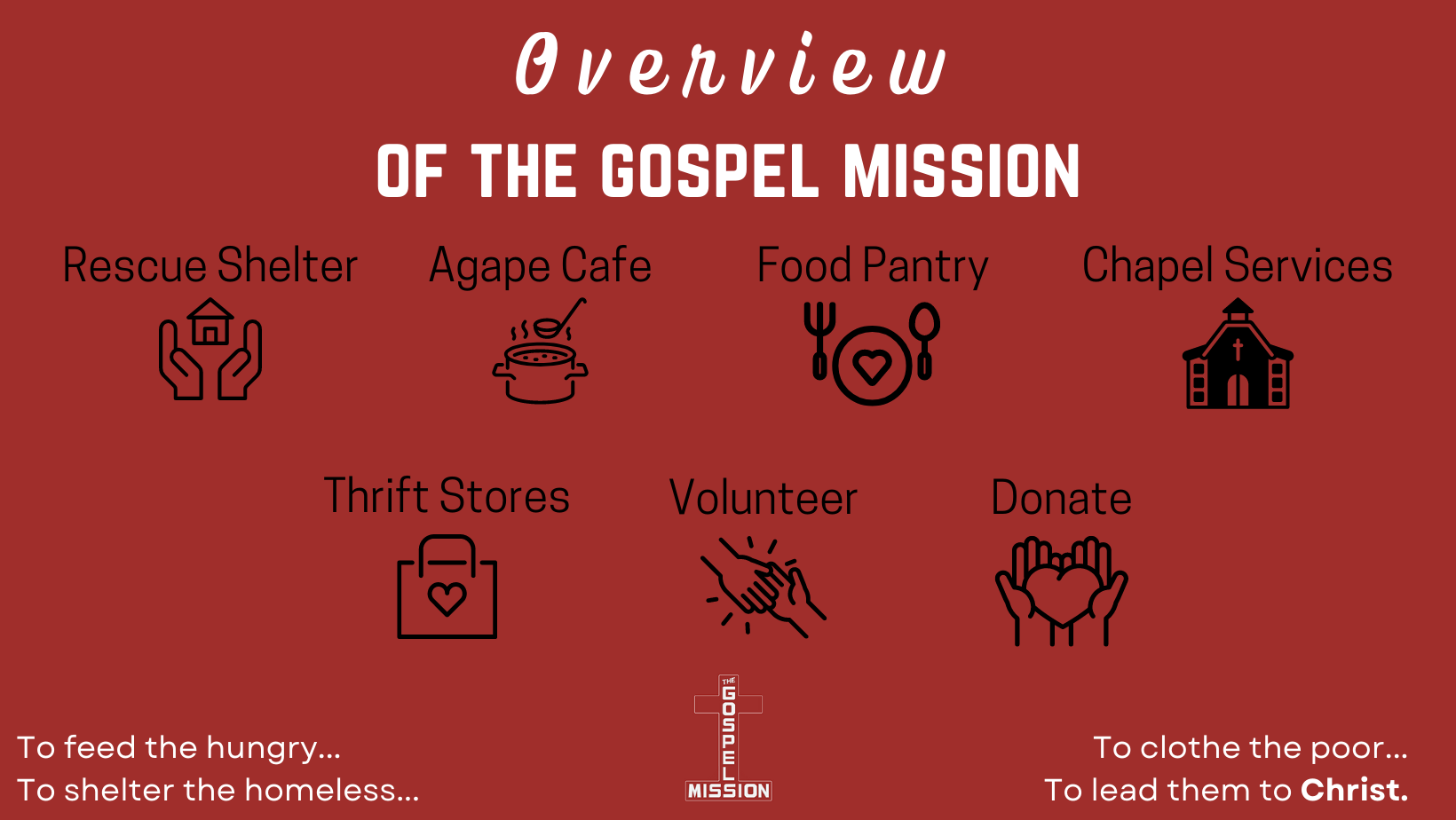 By Clarissa Kraayenbrink, Director of Public Relations
The Gospel Mission has been ministering to the Siouxland community since 1938. Founded by Henry Plumer, it began as a safe haven for railroad men to get off the streets and out of the bars on Lower 4th Street in downtown Sioux City and hear the Word of God. Over the past 84 years, The Gospel Mission has transformed into what it is today: A rescue shelter for men, women and children that provides three hot meals a day to residents and community members alike and strives to share the love of the Father with everyone who walks through our doors.
In recent years, we have been growing our Thrift Store operations. There are now three locations in which to get the best consignment prices in town on items like clothing, furniture, home décor, home appliances, books and toys. Our three locations are conveniently located around the metro area in Morningside, downtown and South Sioux City. Think of us the next time you need something for your home or for yourself! And, if you're doing some cleaning and come across items you no longer need, our thrift stores rely on donations from generous people like you to keep up our inventory. Donations can be brought to 312 W. 8th Street from 10 a.m. to 6 p.m. Tuesday through Saturday.
The Gospel Mission holds three chapel services a day: 8:15 a.m., 10:45 a.m. and 7 p.m. Our residents are required to attend at least one of those services per day, depending upon their work schedules. Community members are welcome to attend the 8:15 a.m. or 10:45 a.m. services as well. So, if you are curious about The Gospel Mission and want to see what is being taught here, feel free to stop by. Last year, we had 18,525 chapel attendees across all three services over the span of the year.
Our Food Pantry serves approximately 40 families a day and is open from 9 a.m. to 10:45 a.m. Monday through Friday. Anyone is welcome to come and get help with their groceries whether they need it every day or just one time. The food pantry is located at our main building at 500 Bluff Street, but patrons must come through the side door facing our parking lot.
Three meals are served each day, seven days a week, in our Agape Cafe. In 2021, we served over 78,000 meals to residents and the community. The Gospel Mission yearns to feed both the physical and spiritual sides of everyone we have the pleasure of serving. You can find meal serving times here.
We provided 24,742 nights of lodging in 2021 to those in need of a warm place to sleep. Our three shelters serve men; women and children; and single men with children. If you need help in this area, or know of someone who does, please reach out to us to see if we can help you. We have people in place in these ministries who have a heart to serve and want to help others get back on their feet.
Volunteers are always welcome here at The Gospel Mission. Areas to serve include any of our thrift stores, sorting and hanging up clothes in the clothing warehouse, serving a meal or other seasonal activities as needed. If this is something you or your group might be interested in doing, please call us at 712-255-1769 and ask for Clarissa. We would love to get you plugged into the area of your choice to help us serve others.
The unique thing about what we do here is that it all centers around the Gospel. In everything we do, from providing shelter to feeding those in need, we want to share God's love with everyone who comes in to stay with us, eat with us or volunteer with us. We want them to walk away knowing that someone cares about them and there is hope for them in this life and the next if they trust Christ as their personal Savior. Everything that transpires here revolves around this wonderful, grace-giving truth.
Our hope is that you finish reading this blog post feeling more enlightened about what goes on at The Gospel Mission and hopefully you found out something you didn't know before reading this. If you have any questions or feel inclined to volunteer or donate, please reach out to us. We would love to connect with you and answer any questions you may have.
To feed the hungry... to clothe the poor... to shelter the homeless... to lead them to Christ.