Whoever is generous to the poor lends to the LORD, and He will repay him for his deed.
Proverbs 19:17
Current Donors:
We would like to collect more email addresses to save postage, paper, and eliminate waste.
Please add an email address or update your contact information below.
Our Donation Center is located at 312 W 8th St., Sioux City, Iowa
Open Tuesday - Saturday 10am-5:30pm
PLEASE DO NOT leave donations at the door after hours.
(Items are getting destroyed before we find them the next day)
HELP US HELP THOSE IN NEED
As a 100% nonprofit, we rely solely on the generosity of our donors to carry out our mission of Feeding the Hungry, Clothing the Poor, Sheltering the Homeless and Leading Them to Christ. We work to ensure that the dollars donated to us are used responsibly and for the goal of helping those in need.
When you give to The Gospel Mission, you are helping us ensure that men, women and children in our community have a safe, warm place to stay, food on their table, clothes on their back and other basic needs are provided for. But, most importantly, you are helping share the love of Jesus Christ by putting His message to care for others into action.
FINANCIAL CONTRIBUTIONS
When it comes to making a financial contribution, no amount is too big or too small. Because The Gospel Mission is a registered 501(c)(3) nonprofit organization, donations are tax-deductible to the full extent of the law. We take no government funding and we are not a United Way agency. We partner with MinistryLinq to provide secure online giving. If you prefer to make your contribution via phone or mail, please contact our office at 712-255-1769 or send your gift to our main office.
PLANNED GIVING
Leave a lasting legacy with planned giving to The Gospel Mission. To learn more about the benefits of planned giving, please contact David Delzell, our Director of Development, at 712-255-1769 or [email protected].
MONTHLY GIVING
In order to help us best continue our service without interruption, consider making your gift a recurring monthly contribution. By setting up this monthly transaction, you can set it and forget it, while helping us keep our budget stable throughout the year!
FUNDRAISER
Want to spread the word about The Gospel Mission? Consider hosting a fundraiser or donation drive at your business, school, church, group or wherever you like to spend time! To learn more, please contact Ashley Mareau, our Director of Public Relations, at 712-255-1769 or [email protected].
TRIBUTES
We want to thank and acknowledge those who have given a gift in memory of someone else. This is a wonderful way to honor the legacy and memory of a special person in your life.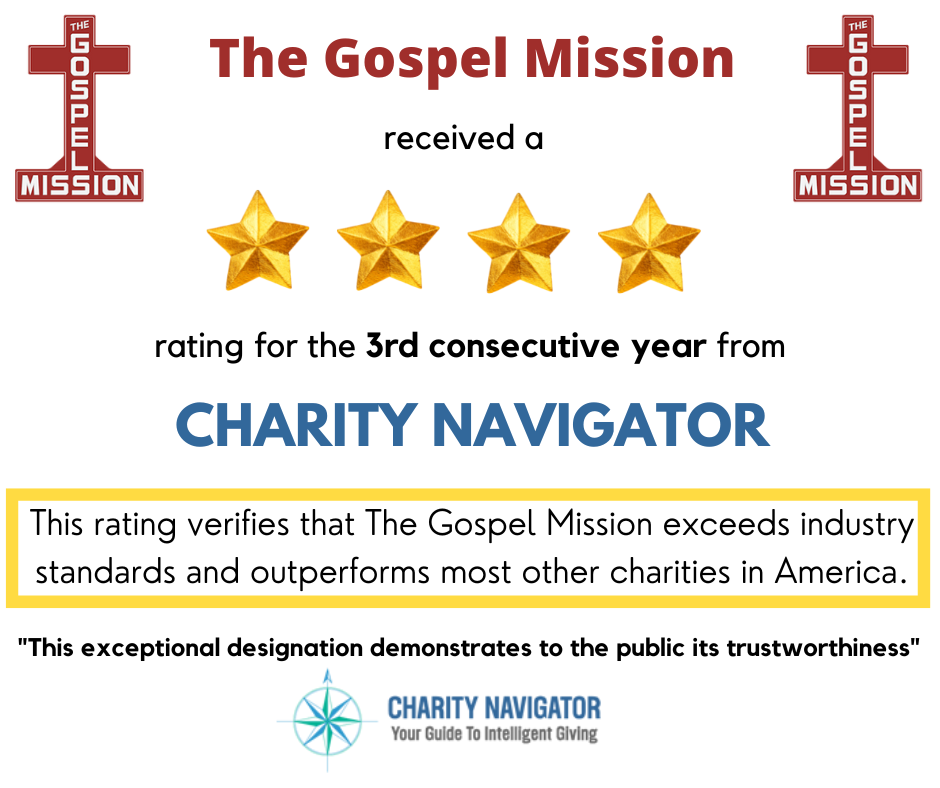 FISCAL RESPONSIBILITY
The Gospel Mission is committed to ensuring that your contribution goes directly to those in need when you donate to us.
Our annual audit shows that less than 10% of our income is utilized for management purposes. With His help, our programs and stewardship have enabled us to gain a 4-star rating from Charity Navigator for the third year in a row. This means that The Gospel Mission is accountable, transparent and financially healthy.
Prior to our recent move, the Mission had operated debt-free with two exceptions – the purchase and renovation of our Women and Children's Shelter and the purchase and renovation of our thrift store. In both instances, the debt was eliminated well ahead of schedule and without substantial fundraising. In March 2013, our mortgage debt (which started at $1.8M in 2009) was paid in full.